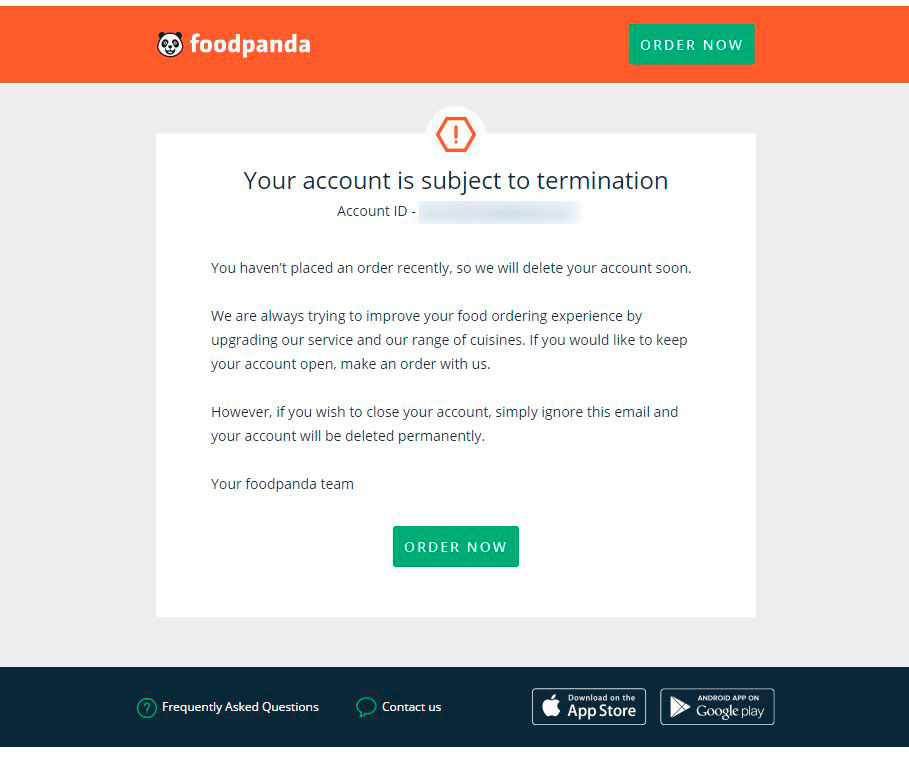 If there's a bad way to handle inactive web users, it's by deleting their accounts. Storage is cheap and becoming cheaper by the minute. So what's just another entry in your database?
I frequented ordering through FoodPanda (mostly for Chooks-to-Go) when we were right smack dab in the middle of Ortigas. Now that we're living in another region, I noticed that there are scant stores from which I could order through FoodPanda. Hence, the inactivity.
Just recently, I got this message from FoodPanda that's telling me that they will be deleting my account for not ordering anything recently. If I don't do anything about it, they'll be deleting it permanently.
Wow.
I've signed up for several online services which I haven't fiddled with for a long time. For example, I signed up for Endomondo fitness app but due to medical reasons and its incompatibility with my heart rate monitor, I remained inactive. But what do they do? They send me an email once in a while not to threaten me with account deletion, they send me updates and information that might interest me to try their service again. It's annoying at times but it is nice to have the feeling of being wooed back.
Well, Foodpanda, apparently you don't care enough about your formerly loyal customers to afford them some space in your database.  It's not my fault that I can't find restaurants that you can service in my area. Besides, you interface is unusable most of the time due some crappy geolocation.
So delete my account and good riddance.