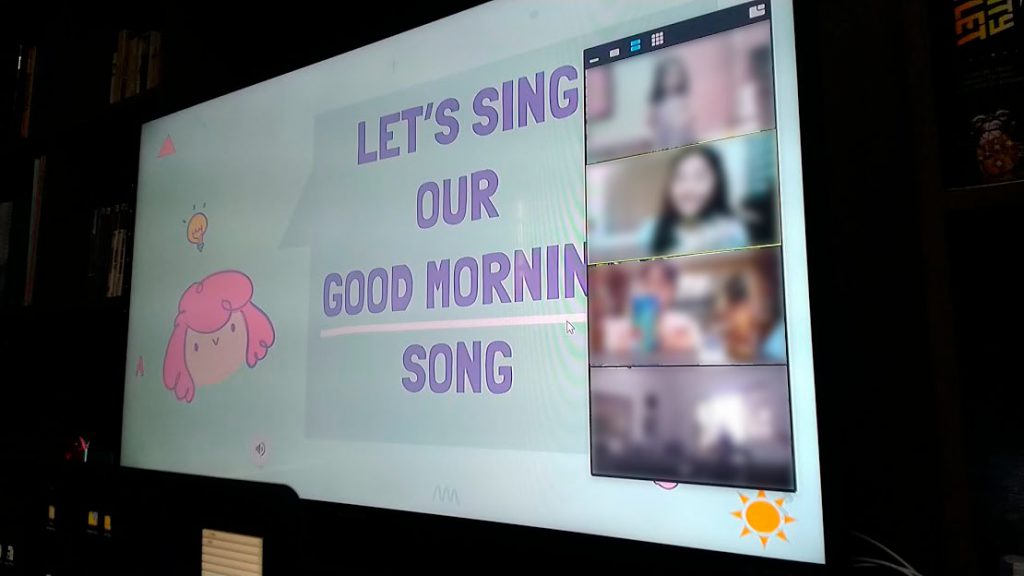 We bit the bullet and enrolled Mea to preschool. She's starting school next week.
Partly, there's that parental fear that she will be left behind if she doesn't enroll this year. Partly, we're just looking for new activities for her to do. Before COVID, she's used to long early morning walks and playtime with neighbors in the afternoons. Now, she's just bored out of her wits. There are times when she just cries, missing the things she used to do.
With Rish and I having full-time work, it's tough to give her all the interaction that she craves. Having her do school work, albeit virtually, should keep her busy for at least an hour or two each day. Interacting with people other than those in our household should help too.
I'm sure we'll regret that instead of having the experience of driving her to school and seeing her off, we'd just be in the background as goes about her first day of school virtually.
What we didn't truly anticipate are all the other costs that go with online learning. Sure the school trimmed down the tuition a bit but it is still by no means cheap. We thought we'd be fine with our existing setup at home, but it isn't the case.
It's a good thing the school did a series of test runs through webinars and special classes as part of the run up to the start of school. At least that gave us an idea of how to build a more conducive space for her to learn. Having her just sit on the sofa or recliner just makes her lazy and sleepy.
I'm still shifting some stuff around but our family room is now in the process of becoming part her study space, part Rish's office. That meant using the attic again as tambakan (which, pre-COVID served as my mini photo studio) and converting one entire room as another bodega.
My personal laptop will now be Mea's Zoom and Google Classroom machine. My laptop was mid-range three years ago but it should still be enough to do the job. I'll be hooking up to the TV for it to be easy on Mea's eyes. We're also putting my tablet on standby just in case.
We figured we also needed an external webcam so it would be flexible enough to move around. Too bad all the good webcams are out of stock, no thanks to all the work from home and vlogging going on these days. (Fuck you, "influencers.")
It's a good thing I still have a directional mic from my content development days which we could use to make sure Mea's voice can be heard. She tends to whisper when she talks to people she's still unfamiliar with.
We're even debating upgrading our PLDT Fibr line from 30Mbps to 100Mbps to ensure we have enough bandwidth. Our Globe mobile data plans will serve as backup but given how crappy "4G" data is in our part of the greater metro, we're worried if we have connectivity covered. But at least having access to either one of the telcos minimizes our chances of downtime.
I'm also adjusting my work and chores schedule to make sure I can assist during Mea's class hours.
Sure, this is looking like it's overkill but I'm never one for doing a half-assed job and I wouldn't want to start now with my preps for my dear kid's education. To that, I'm putting all my resources to bear just as our parents did for us.
So this is my family's situation. A middle class family stressing about how to create a learning space for our only kid who will be doing online schooling this year.
Now, think about those who have multiple learners in the family and those that don't have the luxury of gadgets, unlimited internet, and spare spaces at home. Sakit sa puso makakita ng posts ng mga magulang na nanghihingi ng donations for gadgets and those "piso para sa laptop" fund drives.
Yet the education department is still pushing through with the school year. This, despite the fact that teachers and school officials themselves are asking for more time and resources to prepare. And then there's that latest corruption scandal that budgeted tens of millions of pesos for two laptops and an Adobe license.
I've said before that this school year will be a grand experiment. And it's going to be a costly, one way or another. And I fear that it will exact a great toll on a whole generation of learners.