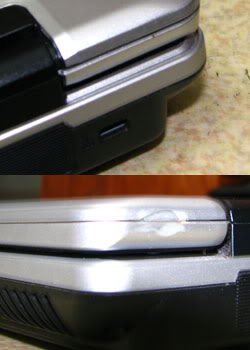 Whenever my tool of the trade isn't in fully functional condition, I get depressed. Attribute that to my OCD and AR perhaps. Bottom line is that my Asus A8Jr workhorse's Achilles heel surfaced yet again – the dreaded hinge problem is back. It has been the design flaw of Asus' A8 series but just when I thought I could finally live a happy computing life after I had it fixed last year, lo and behold, the LCD casing is cracked, yet again and the LCD screen has a nasty wobble.
This isn't news exactly as countless others have reported of having to get theirs fixed more than twice already. I was just hoping that mine was fixed for all eternity after having it repaired once. The only good thing about this is that I still have a good five months left in the warranty though I was troubled when Asus World (the distributor's service and showroom at SM Megamall) informed me that they still had to check whether they can still process my request. Two reasons: 1) because it was already my 2nd claim on the same issue and 2) because Asus already has their own office here in the Philippines .
Being the travel lazy chap that I am, I was hoping they can process it for me. For one, I didn't want to search for that new Asus Philippines office (though it's somewhere in Pasig's Kapitolyo area which quite near SM Megamall). So I asked Ms. Emily (the same person who assisted me in my request last time) if she could find out if they can be the ones who can process my request. I had to wait a few hours before I got a definitive reply but thankfully, I got a positive reply. Only, same as last time, I had to wait for the parts to be made available. And, basing it on that, the wait's a bit over a month.
Oh well. It seems that I have to live with this wobbly LCD screen for the mean time. Too bad, I have to lug it around from one place to another and, in this condition, it worries me a lot. At least when I get to have the casing replaced again, my lappie's going to look like brand new yet again (since they'd be replacing the LCD case and the upper casing where the keyboard is) since my sweaty palms had taken its toll on the silver finish.
Well, I do plan to retire this thing as a workhorse and probably get me that new 12-inch Lenovo G230. It's got quite the beefy specs I need for writing and a bit of graphics but the thing that I love about my A8Jr is that it has a dedicated video card. Not to mention this had been my trusty little sidekick. Anyway, if I'm to retire this as a home unit instead, then I might as well have it retire with dignity by ensuring that I have the hinges fixed and the casing replaced.