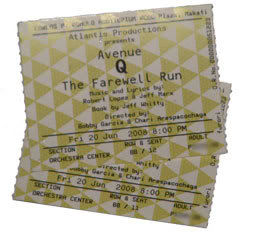 One of the trade offs of working everyday and studying on the side is you miss out on a bit of culture. I'd have to admit that I haven't listened to the radio in a long time (both AM and FM) so I know diddly-squat about who's who in music industry. Sure I watch movies but hey, Incredible Hulk doesn't really count for anything other than geek and pop culture.
So how about a bit of Broadway. Yup, risking another huge sum of money, me and Team Sugoi decided to pump some culture in our lives by watching the farewell run of Avenue Q in Makati last Friday. Uhm, so yeah, culture might be arguable since Avenue Q isn't Les Miserables or Miss Saigon or even Cats for that matter. But hey, I'm going to take (and took) what's there.
And oh boy, did I have a good time.
No reviews here but trippy songs and f*cking muppets (literally), it was a pretty great experience especially since it's the first Broadway musical production that I've seen. Theme-wise we were all supposed to be able to relate. Quarter-life crises, finding one's purpose, graduating unglamorous degree programs, nosy wives, non-existent love lives… Excellent production and execution all in all. I so swear I thought I was listening to the original cast even if the cast was almost 100% Pinoy.
I have loved Avenue Q since Gabby lent me her CD quite a few years ago. And who wouldn't be struck by these lines: "What do you do, with a BA in English? What is my life going to be? Four years of college and plenty of knowledge have earned me this useless degree. I can't pay my bills yet, 'cause I have no skills yet."
Anthem.